Promoting the general well-being of staff in an organization should be a priority of many companies. Work is rewarding, but the stress and long hours of sitting or standing are demanding on the mind and body. It's well known that relaxed employees are more productive and proactive. Companies and organizations are leaning towards corporate massage therapy to help promote the physical and mental well-being of employees and to prevent stress on the body that come from everyday tasks.
The purpose of massage therapy is to treat body stress or pain. This make people feel invigorated, awake and increases productive. By choosing onsite Massage therapy you are providing convenience for your employee in the workplace. At sisters corporate massage we provide onsite massage therapist to work with you and your team in your very own workplace.
CORPORATE MASSAGE BENEFITS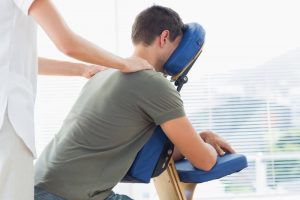 You get expert service in seated chair massage and a workplace-friendly style of massage.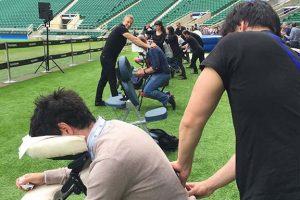 We incorporate corporate massage to events such as health fairs, company parties etc.
Sisters corporate massage can help design an onsite chair massage program to better the workplace. Our on site massage services are a great way to show staff appreciation and improve employee productivity. Some of the benefits of our on site chair massage session includes improving circulation, inducing relaxation and stress reduction, reducing muscle tension and fatigue. A quick chair massage is just what is needed to help your staff feel refreshed and rejuvenated.
Incorporating massage into your corporate events will help engage and create an interest in new and returning customers. This will help strengthen and expand your brand in an effective way. Our corporate event massage includes but is not limited to Conventions, Trade-Shows and Conferences, Pop-Up Store and Private Label Events, Health Fairs, and Sporting Events. Sisters corporate massage will help your company stand out from the crowd in an event. Book us now.
We are paving the way for corporate massage in Lethbridge, Canada. Whether you are planning a one-time company treat or a regular wellness plan for your team, we will help you organize and bring the benefits of registered therapeutic services to your workplace.